Rhian Sugden: beautiful right out of the box! We've been trying to do some pics of Rhian without make-up for a few years now but for one reason or another it's not happened until now. Our personal view is that make-up is one of the few holdovers from another century that is still popular in this one.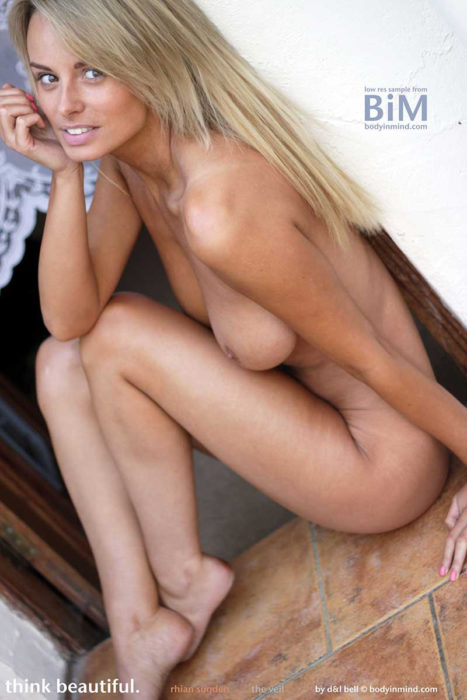 ---
Hot Nude Babes [babes rater]
Erotic Beauties [erotic photos]
Art of Erotica [resource directory]
Simple Nudes [just plain beauty]
FreeXCafe [naked women]
Photography Sites [directory]
Sexy Photos [nude pictures]
Eruluv [erotic nude blog]
Erotic Perfection [fine erotic photography]
---
Obviously it was invented to make women look more beautiful, but how did we decide on big eyelashes, dark eyelids, even skin, rosy cheeks, high cheekbones and red wet lips? Easy. Each of these represents a desirable quality. Big eyelashes represent youth, dark eyelids represent seriousness, even skin represents health, rosy cheeks represent purpose, high cheekbones represent strength and red, wet lips represent sexual availability. Beauty is the representation of values, and since make-up represents those values, it creates beauty. But it's our belief that there are more important values in life than the ones represented by make-up. For example, intelligence, benevolence, morality, courage, innocence, wisdom, etc. We find that NOT wearing make-up is the best way to project these qualities. Which is why NOT wearing make-up can often make a woman more beautiful than wearing it can. We think this is true in this set of Rhian. What do YOU think?
The galleries of super beautiful tasteful nude photos of women on "Body in Mind" are more powerful than porn and more uplifting than art. They call them super nudes. Their strength is in their beauty alone. See if you agree. Bodyinmind.com add updates twice a week so check back often.
Body in Mind – Rhian Sugden
was last modified:
August 31st, 2016
by
Visitors:

44191


Copyright © Gallery of Nudes (2001-2018)
All images on this page are protected by international copyright laws.
Reproduction in any form, electronic or otherwise is strictly forbidden
unless approved in writing by the copyright holder.


More Premium Galleries
See all Premium Galleries
---
Latest Photographer Galleries
See all Photographer Galleries
---